2012年 04月 11日
Chicken Paprika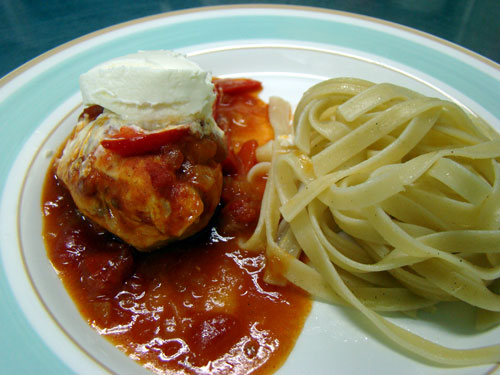 Ingredients
4 part-boned chicken breasts or 8 thighs
1 heaped tablespoon hot paprika, plus a little extra, to sprinkle
2-3 tablespoons groundnut or other flavourless oil
2 medium onions, chopped
1 dessertspoon plain flour
2 good pinches of cayenne pepper
1 lb (450 g) ripe tomatoes, skinned and chopped or 14 oz (400 g) tinned Italian tomatoes
5 fl oz (150 ml) chicken stock
1 medium green or red pepper, deseeded and cut into small strips
5 fl oz (150 ml) soured cream
salt and freshly milled black pepper
Pre-heat the oven to gas mark 3, 325F (170C).
Equipment
You will also need a 6 pint (3.5 litre), lidded, deep frying pan or casserole.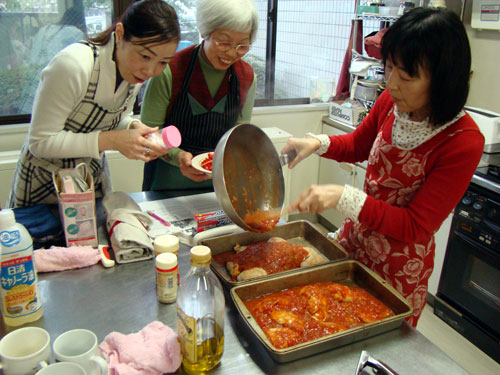 Method
Begin by heating 2 tablespoons of the oil in the frying pan or casserole and gently frying the chicken joints or thighs to a golden colour, you will probably need to do this in two batches. As the chicken is ready, use a draining spoon to transfer it to a plate, and season it with salt and pepper. In the oil left (add a little more if you need to) fry the onions gently for about 10 minutes to soften. Meanwhile, if you are using fresh tomatoes, you can skin them. To do this, pour boiling water over them and leave them for exactly 1 minute or 15-30 seconds if the tomatoes are small, before draining and slipping off their skins (protect your hands with a cloth if they are too hot). Then chop them.
Now stir in the flour, cayenne pepper and paprika into the onions, with a wooden spoon, to soak up the juices before adding the chopped tomatoes. Stir them around a bit, then add the stock. Bring everything up to a simmering point, then return the chicken to the pan or casserole, put the lid on and bake in the oven for 45 minutes. After that, stir in the chopped pepper, replace the lid and cook for a further 30 minutes.
Just before serving, spoon the soured cream all over, mixing it in just to give a marbled effect, then sprinkle on a little more paprika.
Mint choc chip brownies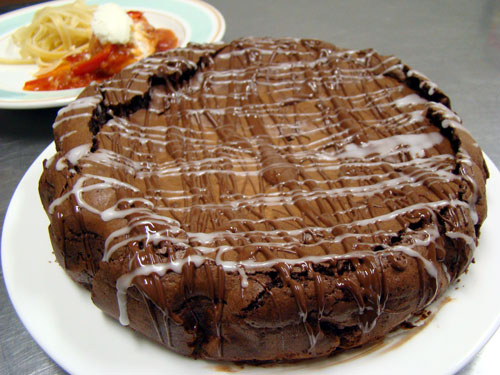 Ingredients
100g unsalted butter , chopped
200g dark chocolate , chopped (an ordinary dark chocolate works best, not a 70% one)
4 eggs
250g golden caster sugar
100g plain flour
1 tsp baking powder
30g cocoa
151g box mint chocolate Matchmakers, roughly chopped
ICING
1 x 100g bar dark chocolate
50g icing sugar
peppermint essence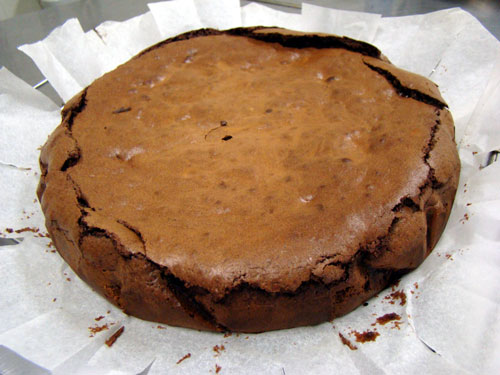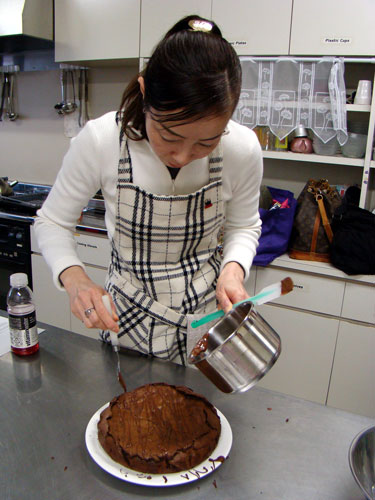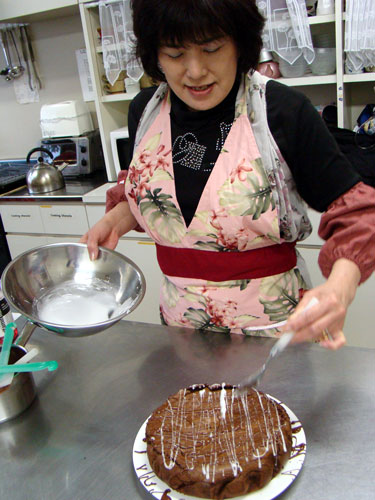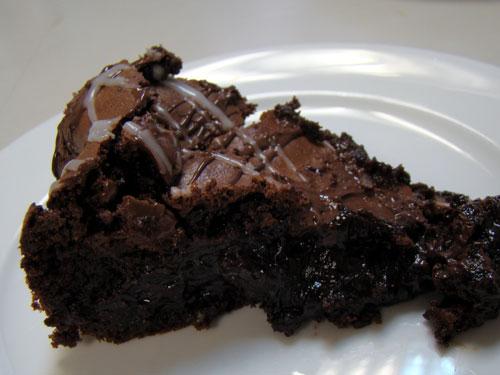 Method
Heat the oven to 180C/fan 160C/gas 4. Line a 22cm-square brownie tin with baking parchment. Melt the butter and chocolate together in a microwave or in a bowl set over a pan of simmering water. Cool. Whisk the eggs and sugar until light and fluffy.
Fold the chocolate mixture into the egg mixture and sift on the flour, baking powder and cocoa. Fold this in, along with the Matchmakers, to give a fudgy batter. Spoon into the tin, level the surface and bake for 25-30 minutes, or until the top is cracked but the middle just set. Cool completely.
To make the icing, melt the chocolate in a microwave or in a bowl set over a pan of simmering water, cool a little and then drizzle over the brownies. Leave to set. Mix the icing sugar with a drop of peppermint essence and enough water to make it pourable and drizzle over the brownies. Cut into squares.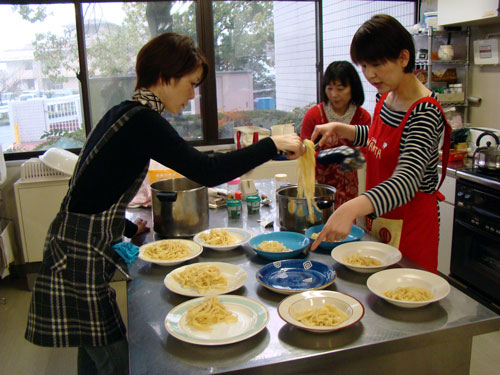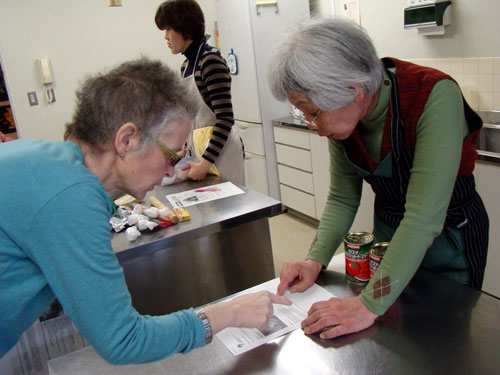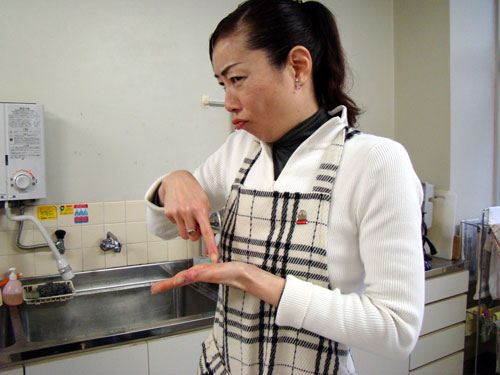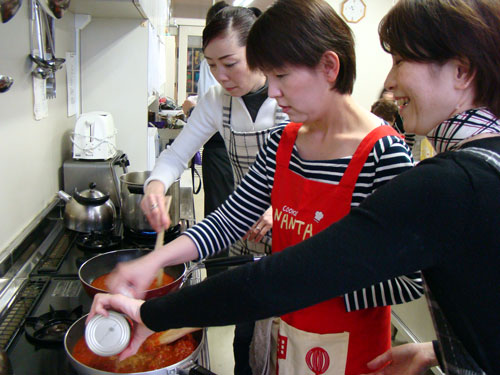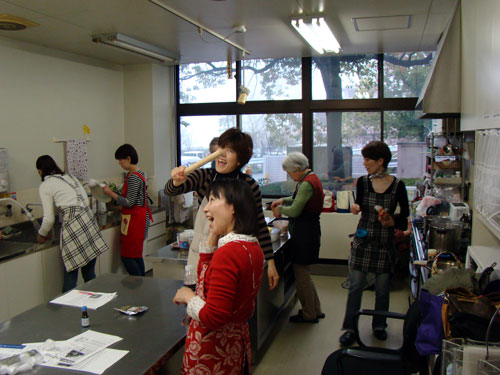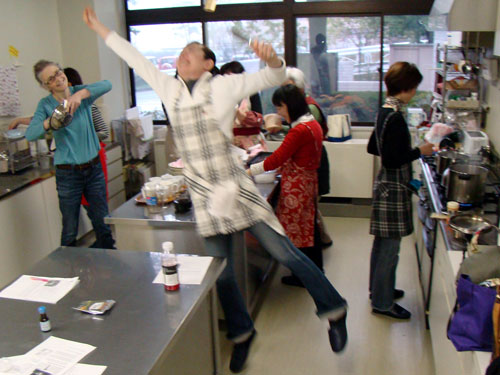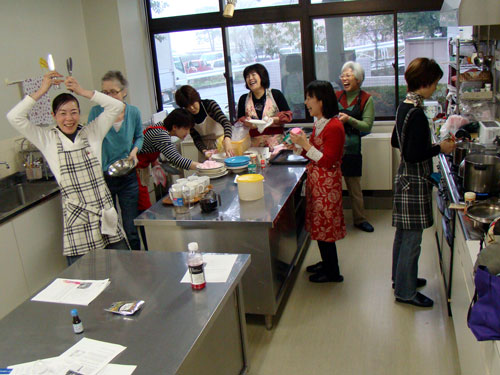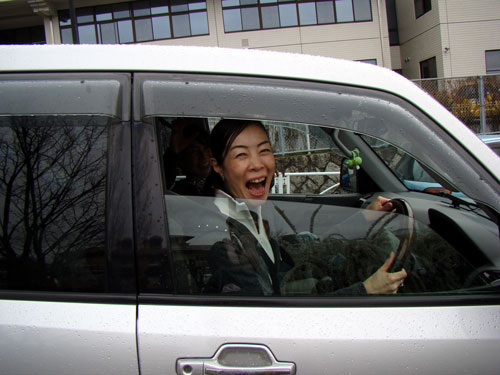 広島インターナショナルスクールフェスティバルが、
4月14日(土)10:00~3:00 広島市倉掛3-49-1(倉掛のぞみ園のお隣) であります。
私たちクッキングチームの、クッキング本をお披露目販売します!
1000円で~~す(^O^)/
どなたでも参加できます。異文化体験できて楽しいですよ♪